Italian Shoemaker® brand clogs are a surprise, and a pleasant one. They are indeed a mass-produced clog and they are sold in shoe warehouses, but they are of better quality than many mass-produced clogs that follow in the footsteps of the Dansko brand clogs that made closed-back clogs so popular as an everyday shoe for the workplace. Shoemaking is a craft in Italy, and two of this reporter's relatives came off the Italian boat and started making shoes in New York City.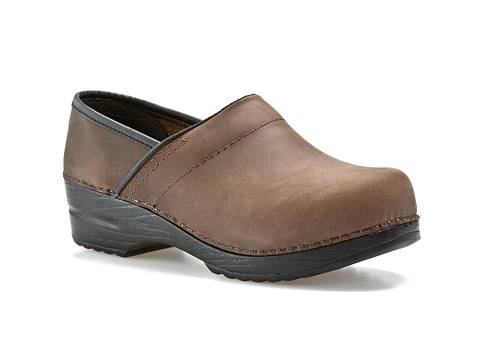 Giving Dansko a run for its money, Italian Shoemaker clogs
In short-I'm very picky about my shoes. Italian Shoemaker® clogs are made in Italy, and they do represent a higher standard in a number of ways. For a mass-produced clog priced cheaply in a market awash with countless styles of pricey clogs and shoes, this brand stands out. They've been making shoes in Italy for 28 years, and they've been making money doing, right there in Europe, while Dansko, with it's higher-priced product, has moved production to China.
These clogs are indeed practical for the workplace and comfortable all day long. They do have a poly-urethane bottom, not a first choice for Almost Barefoot since they tend to have a subtle bounce that can lead to foot pain and eventually, a split bottom. But they are relatively inexpensive, the quality of the upper is good enough that they are not only durable but will start to shape to your foot. Also, they are made in Italy, so we feel better knowing that the laborers are likely treated better than in many other textile-producing nations.
The pair of "Italian Shoemaker" that Almost Barefoot enjoyed were worn for a year of walking around all day long on the job on unforgiving concrete-based floors and comfort was not lost. Visually, the shoes have a narrow appearance (a potential fashion issue, but they certainly won't pinch a wider foot, the issue is relative to the pants you wear with them and is cosmetic only). Be forewarned that when the shoes get really hot, they may squeak a bit when you walk in them!
We grade these clogs with a solid B+.