Good Morning!
Almost Barefoot is happy to say that the diversity of our readership continues to grow. Among our newer readers are folks from the alpine paradise of Switzerland.
Switzerland is quite well-known for its unique, multi-linguistic culture, a desirable mountain lifestyle and of course, chocolate and cheese. And it seems to be pretty friendly for barefooters as well.
This picture has been posted just for fun, but it signifies that a person can, within reason, go barefoot just for fun if she so chooses!

A woman enjoys going barefoot in Switzerland. Photo by Blind Picasso




.





Clearly the Swiss culture seems acknowledges the decorum that is often demanded by modern society that may limit barefooting in urban settings by having barefoot parks that like-minded people can enjoy.
In the mountain town of Celerina, near St. Moritz is a lovely network of barefoot walking trails that is advertised and encouraged by the local tourist board as being an integral part of the lifestyle we'd all like to try. (I'd love some feedback from folks in warmer climates-do they laugh at us folks in winter climates who think barefooting in summer is such a big deal?)
There are
four different trails in the Stat Forest
that offer the hiker choice of a hike that lasts anywhere from 45 minutes to two hours. From the pictures, one can see it is a feast for all the senses from the feet to the eyes.
In
Shauffhausen
, a spa known as Kneipp offers a barefoot hiking path as a key feature to one's "get natural" plan for relaxation. How about a barefoot walk to really get you ready for that foot massage?
The trailhead at Kneipp. From myswitzerland.com
In Gotzen, a public barefooting park
Barfußweg offers "5 km barefoot hiking trail in lovely landscape, mostly over meadows with mud and water wading", says the site Barefoot Public Parks in Europe.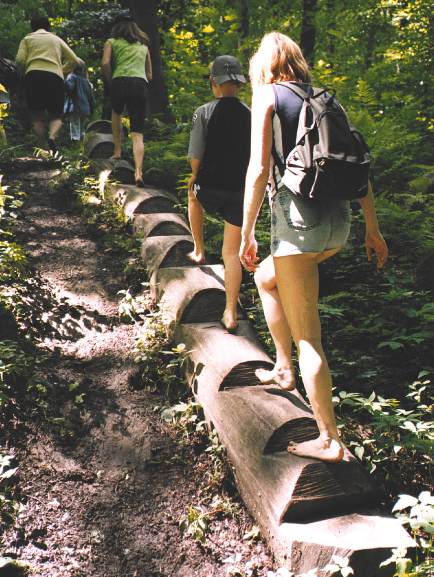 Barefooting on one of Europe's growing number of barefoot parks.
From Barefoot Public Parks in Europe.
HAVE A GREAT, BAREFOOT DAY!